Discover more from In Nollywood
Taking you inside Nollywood
This Week In(side) Nollywood Issue 6
Inkblot teased their December offering this week while Brotherhood is cruising at the box office. Meanwhile, has NTA joined the streaming war?
Brotherhood Opens with 31M: Remember when they used to say Nigerians only want to laugh in cinemas? Well, Brotherhood isn't funny and has been killing at the cinemas. The Jade Osiberu-produced action thriller grossed a cool 31 million naira in its opening weekend and word of mouth is building.
Tosin Igho to reboot NTA's Cock Crow at Dawn: Has NTA joined the streaming wars? They are partnering with Tosin Igho to reboot the iconic Cock Crow at Dawn, which his father, Peter Igho, produced.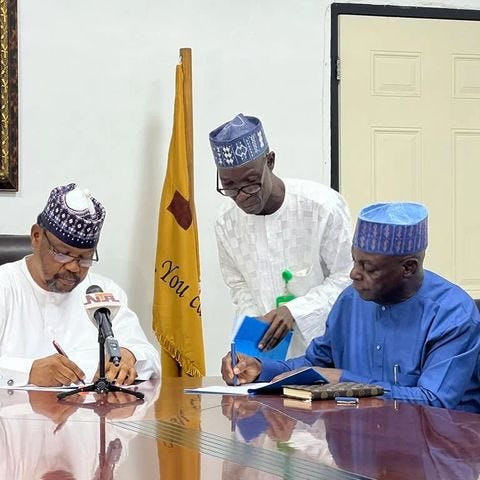 The show, a part of Shehu Shagari's Green Revolution initiative to promote Agriculture, became a game-changer in the 80s and launched actors like Sadiq Daba and Tola Awobode.
It is unclear where it will be streaming, but we will definitely be watching. Below is the soundtrack by Bongos Ikwue. If you remember it, you better be married with kids.
The Critics Company are Back … with Morgan Freeman: The boys from Kaduna are now global! The Critics Company we were hanging with yesterday are now frolicking with Hollywood legends. God when?
Their next short film is Ogun Ola and its trailer is voiced by Morgan freaking Freeman! The film drops at 10 PM today on their YouTube page.
RMD is Serving in Palava's Trailer: Palava is Inkblot's holiday release. In true December film style, all of Nollywood is inside and blockbuster king Niyi Akinmolayan is directing. Our sugar daddy, RMD, is leading and serving the looks. You can watch the trailer and see for yourself.
The film follows Osa Wonda, a jaiye jaiye daddy and high-life musician trying to resurrect his career. His life is muddled when a nasty scandal emerges on the eve of his 60th birthday.
Inside Nollywood Discuss Brotherhood: Today, we will discuss the ambitious and crowd-pleasing Brotherhood on Twitter. We want you in on the fun. Come tell us what you liked about it and what you didn't. We can't promise no one will beat you sha. Join us!
Thanks for reading Inside Nollywood! Subscribe for free to receive new posts and support the ministry!